Music is a form of media that connects so many of us in our day to day lives. Music helps us escape from the real world and to express ourselves in our own way. As Lockdown is adding a lot of stress and panic to peoples lives, we are going to explore the difference that listening to music can make in today's "Ideas for Lockdown" blog!
Hello and Welcome to Sweeney's Blogs!
Today's blog is the tenth blog in the "Ideas for Lockdown" series and is all about listening to music! Music can help make a real difference to people going through life and Lockdown is no different. Wit all of the added tension and stress caused by the Coronavirus and the Lockdown and Quarantine that has stemmed from it, why don't we use music as an escape?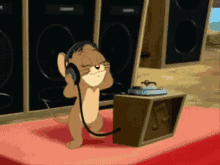 One of the best things about using Music to escape from the real world is that there are so many genres to choose from. Music taste is something that differs from person to person and finding your taste can be a really interesting process!
Whether you're a fan of punk rock or classical, the choice is all yours! What I am saying in this blog is why don't you use music to help take a break from the real world for a while? Why don't you stick your feet up and chill out to some of your favourite tunes every so often!
If you struggle making playlists or picking songs to listen to, we've got you covered too! I made a playlist for this page when I first started writing blogs and it is up to 42 hours long already! I add a few new songs to the playlist every so often to keep it fresh too, so there'll always be something to listen too!
You can view the Sweeney's Blogs Spotify playlist here.
I have also teamed up with a great connection of mine on LinkedIn, Wendy Harris , to help make a playlist for the Lockdown too! The playlist is called Quarantine Quenchers and is a collection of people's favourite songs and songs to help people get through this truly bizarre time. I've made the playlist collaborative too, so if there's a song you want to see on there, let me know!
Quarantine Quenchers is available here.
I'll even embed the playlist here so you can have a listen directly from this post!
https://open.spotify.com/embed/playlist/3wVomJy4HvXwPWMm678gRJ
Thank you for reading today's "Ideas for Lockdown" post! What do you all think? I know today's blog may seem a little bit shorter than my usual work but music can be a really great way to help get you through this Lockdown that we are all currently facing! Let us know what you are doing to get through Lockdown either in the comments or via our Facebook page!
Thanks for reading and I hope you have a great day!
Any money donated here is greatly appreciated and will be directly reinvested back into the page!
James Sweeney