After nearly a whole year of Lockdown in the United Kingdom, the ending is in all of our sights. This past year has been incredibly difficult for so many, but finally a finish line is emerging on the horizon, and hope is starting to enter back into our lives!
I know it's been a tough old slog over these last couple of months, but we are nearly there, let's take a bit of a closer look at this in today's blog!
Hello and Welcome to Sweeney's Blogs!
Lockdown has, for many, seemed like an eternity. When we first entered into it back in March 2020, a lot of people thought that it would only be for a couple of weeks or for like a month or two, but boy were we wrong! A couple of weeks quickly turned into a couple of months, we realised that we would have to spend Christmas in Lockdown, and it has creeped through the first 3 months of 2021, but there's lots to be hopeful for!
The vaccine rollout has been working well, and in Wales over the last week, we have started to see some of the restrictions ease. Over the last week, we have seen children go back to schools, outdoor sport facilities reopening and hairdressers & barbers are allowed to open, for appointments only.
While these may seem like very small things, it is a start, and I, for one, am really happy to see that we are approaching the end of this horrific pandemic. Plus I am delighted that barbers are reopened, as my hair has gone full-primal over the last couple of months, and is in desperate need of a cut!
Whether things go according to Boris's plan and we get to go back to some form of normality by June 21st, or if it is later on in the year, I do firmly believe that an ending is now in sight. When I say an ending, I fully know that this does not count for all of the long-term repercussions of lockdown, but this is still a big positive, which a lot of people are looking forward to, myself included.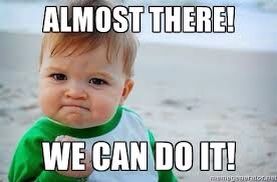 Of course we need to be very safe about coming out of lockdown, and it is in no way a rush or a race to, but I am really happy to have something to look forward to, and after the year that we have all had, I think a little bit of hope being restored into our lives is something that we all need!
Just a little bit further now, as long as we stick to the rules and work together, we'll get through this lockdown and can start to get back to normal, whatever 'normal' actually means, I think that's a chat for another day!
Stay safe and take care everyone! Please, if you need a break or a little rest, do try and take one!
I tell you what, I cannot wait until the day I can go up to visit my grandmother in her home and have a good old catch-up, that will be my highlight of the year!
Thank you all for reading today's blog! What do you think? Do you think the finish line for lockdown is in sight? What are you looking forward to doing in a post-lockdown world? How are you doing generally? Be sure to let me know your answer to the above questions, and any other thoughts or queries you may have, either in the comments below or through our Facebook page!
Thank you all for reading and I hope you have a great day!
Any money donated here is greatly appreciated, and will be directly reinvested back into the page!
James Sweeney